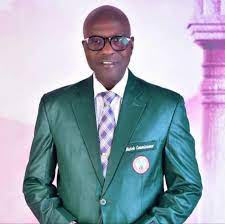 By Bisi Ogunleye
Seasoned football administrator, Mr. Paul Taiwo Odebunmi has called on components of the Ekiti State football ecosystem to come together and work for the development of the game in the state.
Mr. Odebunmi stated this while speaking on the topic, "Essentials for football development", as part of the webinar series on Ekiti Football Builders Forum, put together by the Ekiti State Football Association.
The former Executive Committee member of the Nigeria Football Federation, who used the Three Ts as a fulcrum for his lecture, said the idea encourages teamwork as every stakeholder has a role to play in football development.
He listed the essential keys to be Time, Talent, and Treasure, within which every stakeholder would find where he fits.
The two-term former Chairman of Ekiti State Football Association explained that time is the volunteered hours or days committed to a cause, the talent is the natural skill needed while the treasure refers to financial contributions which is invested.
According to Mr. Odebunmi, components of the Ekiti football ecosystem like the Local Football Councils, Referees Council, Coaches Association, Footballers Association, Supporters Club as well as the Patrons and Advisers have their work and contributions cut out within the Three Ts system.
He posited that each component in the football ecosystem possesses at least one of the Three Ts, which if properly harnessed, would ensure the much-needed advancement in Ekiti football.
Mr Odebunmi commended the current board of the State Football Association, under the leadership of Mr. Bayo Olanlege, saying the board has embarked on various developmental efforts geared towards improving football in the state.
The retired banker also praised the media for its role in the development of the game, saying Sportswriters are important partners in the task of football development.